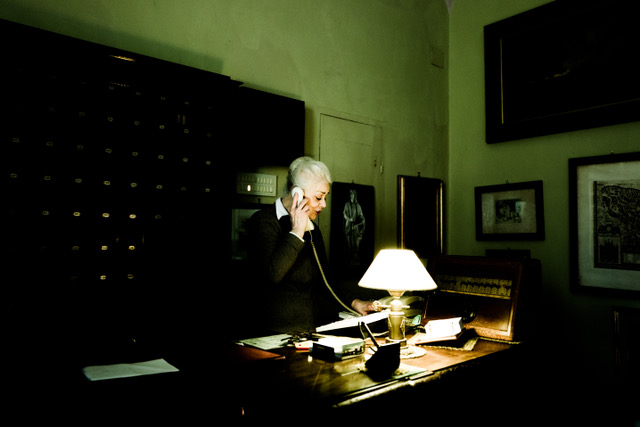 Un viaggio a colori, digitale, in 3D: la nuova mostra di CasaGalleria MonteGeneroso – nel comune di Rovio in Svizzera e che tra l'altro ha appena lanciato la sua presenza anche sulla piattaforma internazionale di Artsy – mette in scena "The Extraordinary Within The Ordinary. In The Cinema Of Life" del fotografo Giorgio Galimberti.
Galimberti ci porta a vivere l'atmosfera dei primi decenni del XX secolo quando i film erano in Technicolor.
Giorgio Galimberti è uno dei fotografi italiani tra i più apprezzati, nato nel 1980 e cresciuto in un abiette artistico, coltiva la passione per la fotografia sin da adolescente.
Dopo anni di camera oscura, lavora come fotografo professionista che lo porta in giro per l'Italia a fare mostre personali e ad affermarsi come uno dei fotografi emergenti italiani nella street photography.
Le sue immagini sono riconosciute per i forti contrasti, spesso in controluce. La sua bellezza è imperfetta e suscita emozioni nello spettatore che si trova sempre a porsi delle domande su chi sono i soggetti ritratti e a quale epoca appartengono, in quale contesto sono stati scattati.
Tra ordinario e straordinario.
Con "The Extraordinary Within The Ordinary. In The Cinema Of Life", Galimberti mette in risalto le scene di una vita quotidiana nella loro ordinarietà, tinte di una straordinaria luce che le fa sembrare come i fotogrammi di un film. E così la dolce signora di Palazzo Reale ad Orvieto sembra la protagonista di un quadro di Hopper. I colori che virano al verde salmastro rendono l'atmosfera cinematica.
CasaGalleria MonteGeneroso, inaugura così un percorso di mostre virtuali e di talk con artisti internazionali che inizia con la mostra di Giorgio Galimberti.
Il focus della galleria è la promozione dell'arte e della fotografia contemporanea, street e pop. Takashi Murakami, Ed Ruscha, Banksy, Daniel Arsham sono solo alcuni degli artisti esposti in galleria. Oltre agli emergenti americani del movimento #BlackLives Matter Mark Thomas Gibson e Tyler Mitchell, il gallese Jack Burton, lo svizzero Daniel Meuli, l'illustratore italiano Lorenzo Petrantoni e, il visual artist svizzero italiano Yuri Catania nonché deus ex machina di Casa Galleria.
La mostra sarà visitabile fino al 10 gennaio 2021. Clicca qui per saperne di più.