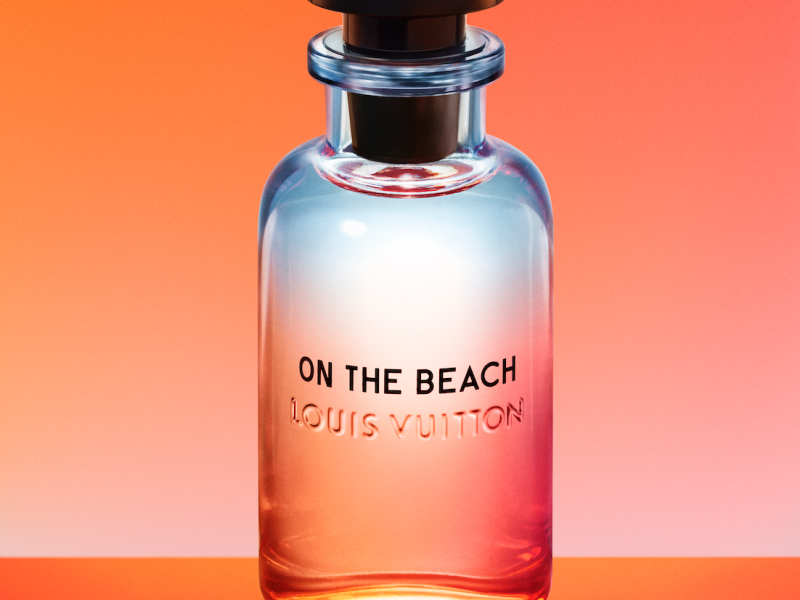 Avete presente una giornata senza nuvole, quando il cielo è limpido e ci mette di buon umore? Quando il profumo degli alberi in fiore ci accompagna fuori da casa e il sole ci scalda la pelle? Quando quel brio di leggerezza conquista anima e corpo? Deve essere questa la sensazione che ha voluto trasmetterci il Maestro Profumiere Jacques Cavallier Belletrud mentre realizzava la nuova e preziosa fragranza di Louis Vuitton: On The Beach. Inno all'estate, al viaggio e alla vita all'aria aperta. Una fragranza che, come la storia di un profondo e fugace tramonto, racchiude tutte le varianti di colore più belle della Città degli Angeli, grazie anche al contributo dell'artista Alex Israel che ha già vestito le colonie Sun Song, Cactus Garden, Afternoon Swing e California Dream della collezione Colonie Profumate.
Come un raggio di sole o una passeggiata esotica nell'atmosfera di un sensuale tramonto On The Beach, disponibile da oggi nelle boutique Louis Vuitton, ci trasporta in una fuga sulla West Coast.
La nuova fragranza del marchio di LVMH racconta le bellezze del litorale e la voglia di vivere gli spazi aperti circondati dall'incredibile fervore dell'Oceano. On The Beach sà di libertà, la stessa che si respira nella costa occidentale della California, un territorio creativo e spontaneo.
La nuova fragranza di Louis Vuitton è una colonia che, con le sue note di Yuzu, Neroli ed Erbe Aromatiche, esalta l'euforia.
L'ultima creazione del Maestro Profumiere Jacques Cavallier Belletrud che è in grado di combinare l'emozione sconfinata di una giornata trascorsa su una spiaggia assolata. Come racconta il Maestro, On The Beach:
"Si apre con luminosità e diventa una carezza. Lo Yuzu crea quella brillantezza. È un raro agrume del Giappone di cui sono appassionato da trent'anni. Ha un profumo complesso, un incrocio tra pompelmo, mandarino e arancia. È una nota fondamentale e vivace che scoppia in un'esplosione di freschezza. Poi arriva il calmante Neroli, essenza di fiori d'arancio. Una punteggiatura delicata e gioiosa, mista ad una nota sabbiosa composta da aromi sfaccettati. Timo, rosmarino, pepe rosa e chiodi di garofano sono materiali discreti ma essenziali per il paesaggio, perché contribuiscono a creare un'atmosfera estiva. Un velo di cipresso firma la scena, come un'ombra benevola e legnosa in una giornata senza nuvole".