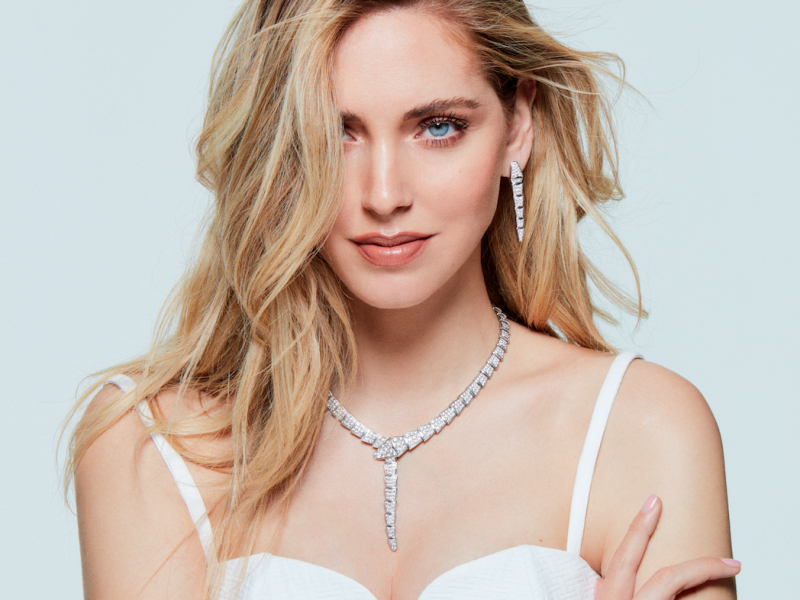 Chiara Ferragni entra nella community di PR ambassador di Bvlgari. Famosa imprenditrice, influencer e opinion leader scelta per il suo approccio comunicativo cross generazionale e internazionale.
Famosa opinion leader e imprenditrice, Chiara Ferragni condivide con Bvlgari lo stesso approccio esuberante, gioioso, indipendente e autentico che ha incantato milioni di follower nel mondo. Nella sua nuova veste aiuterà il marchio a comunicare i propri valori ad un audience cross generazionale e internazionale.
"Sono davvero orgogliosa di entrare a far parte della Bvlgari family perché ho un legame forte non solo con il brand, ma anche con Jean-Christophe Babin and Lucia Silvestri," commenta Chiara Ferragni. "L'heritage di Bvlgari è legato ad un'estetica e un'attitudine audace ed esuberante e ad un design italiano famoso nel mondo, tutti valori che condividiamo da sempre. Questo è il motivo per cui stiamo facendo squadra, impegnandoci anche a generare un impatto positivo attraverso le attività che svilupperemo insieme."
Quello di Chiara Ferragni è un successo globale, senza precedenti e molto probabilmente  non ripetibile. Il suo lavoro col mondo digitale insieme a ottime intuizioni e solide capacità nel marketing le hanno consentito di raggiungere risultati incredibili non solo sui social – dove appunto nasce il suo fenomeno, sapientemente raccontato in "Unposted" il docufilm sulla sua vita – ma anche nell'imprenditoria con la sua Serendipity la società di cui è CEO che controlla The Blond Salad e appunto Chiara Ferragni Collection.
Stimata e amata dai colossi del fashion e del lusso collabora con alcune delle più importanti realtà della moda e del beauty con cui ha lanciato delle collaborazioni speciali come successo con Lancôme.
Oggi Chiara Ferragni entra prestigiosa community di PR ambassador di Bvlgari.
"Siamo onorati di dare il benvenuto a Chiara Ferragni nella Bvlgari family come nuova Global ambassador," dichiara Jean-Christophe Babin amministratore delegato di Bvlgari. "Penso che Chiara incarni alla perfezione lo spirito più autentico della nostra azienda, radicata in valori altamente positivi, tra cui gioia, creatività, bellezza, magnificenza e qualità, ma anche grazia e generosità. Nel suo nuovo ruolo, Chiara sarà un incredibile alleata nel far arrivare i nostri messaggi alle generazioni più giovani. È inoltre per me, come amministratore delegato, un'incredibile sparring partner per intercettare i trend del mondo del fashion e del luxury."