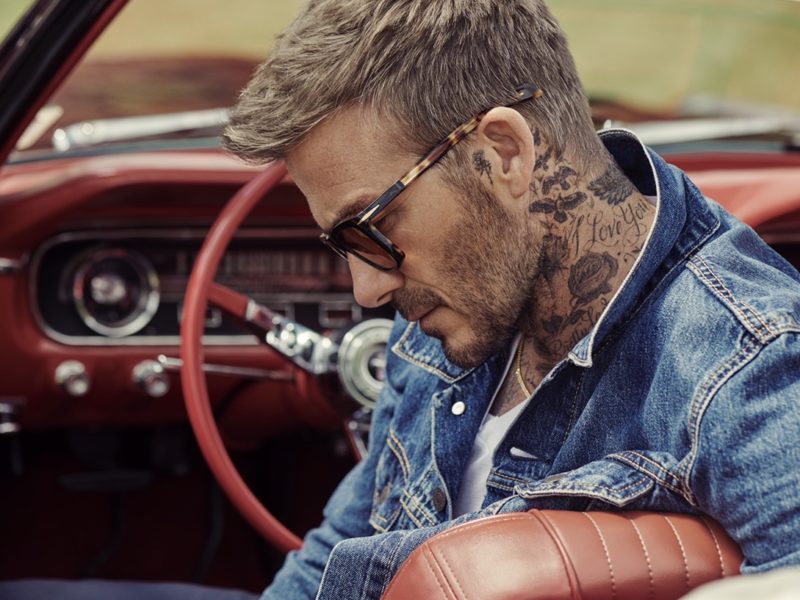 Ha da poco compiuto 45 anni è uno dei calciatori tra i più famosi al mondo che, appese le scarpette al chiodo, non è affatto rimasto nell'ombra. Come avrebbe potuto, visto che è anche uno dei sex symbol più seguiti e apprezzati. Imprenditore e dirigente sportivo dell'Inter Miami, David Beckham da più di vent'anni è sposato con l'inimitabile Posh Spice, madre dei loro 4 figli Brooklyn, Romeo, Cruz e Harper e fondatrice dell'omonimo marchio:  Victoria Beckham. Un brand del lusso molto amato nel settore, tanto da aver ricevuto numerose nomine e premi come il Brand of the Year ai British Fashion Awards. Insieme i Beckham hanno dato vita a un impero da oltre 300 milioni di sterline. Ora anche l'ex centrocampista pare farsi strada nel fashion, lanciando la sua linea di occhiali da sole.
DB Eyewear, la linea firmata dal campione dello sport in collaborazione con Safilo.
David Beckham dà vita alla sua linea eyewear con modelli unisex, prodotta e distribuita dal colosso Safilo. Lo stile mixa lo spirito vintage del British ai dettagli moderni. Realizzata in materiali ultra-light, la linea è dotata di speciali lenti minerali, polarizzate o fotocromatiche. Una collezione riconoscibile tramite il monogramma DB, inciso in tutti i modelli; e il Talismano: un dettaglio in metallo ispirato al volo di un uccello, che rappresenta un simbolo di potere, protezione e libertà.
La collezione Eyewear per la Spring Summer 20 di David Beckham.
Le proposte in acetato e metallo presentano un look maschile discreto. Le lavorazioni sono artigianali. I colori esplorano una palette calda, si va dalle tonalità di avana e cromie classiche galvanizzate, accompagnate da lenti marroni o grigie, oltre a nuance più chiare di verde, giallo e azzurro. Come ha dichiarato il campione del campo e della moda: «Il mio viaggio nello stile mi ha insegnato il potere della semplicità e l'importanza del dettaglio e dell'artigianato" ha dichiarato David». Per la campagna pubblicitaria Beckham ha scelto un regista e fotografo giovane ma promettente e fidato… il figlio Brooklyn. È lui a dirigere il padre in un film in bianco & nero in cui si susseguono immagini di David in camicia bianca, cappello e occhiali, alla guida di un'auto d'epoca.