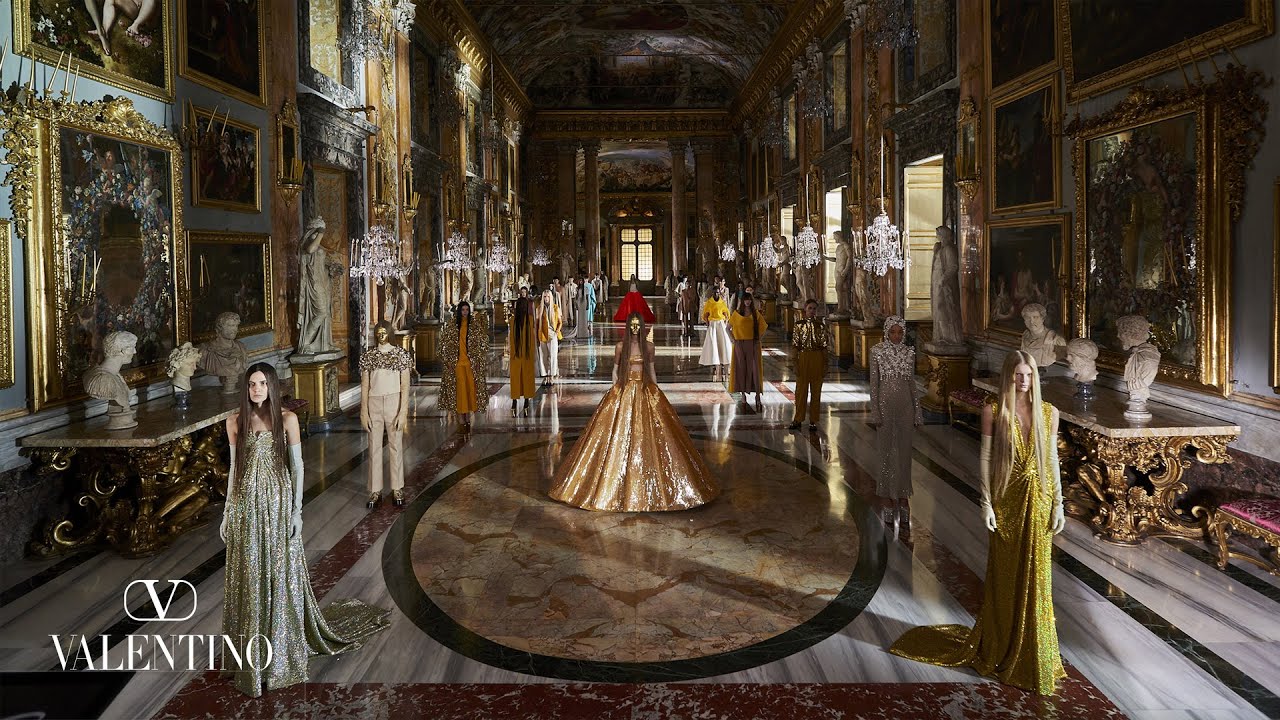 "The mastery of the handmade as a timeless code and a value" è la prima cosa che si è letta nelle IG stories di Maison Valentino poco prima che lo show digitale Code Temporal, organizzato per la nuova collezione haute couture  prendesse vita e che tradotto indica "La maestria del fatto a mano come codice e valore senza tempo". Una frase che ci ha proiettato subito in un mondo nuovo, dove classico e moderno convivono. Come convivono punk e rock insieme alla sobrietà di giovani donne e uomini alla conquista del mondo con gesti di raffinata gentilezza.
Mason Valentino e Pierpaolo Piccioli, il suo direttore creativo, interpretano il tempo "come codice e valore, da resettare e riprogrammare in una Couture di oggi che attualizza rituali e processi classici in capi pensati per esprimersi e per essere, ciascuno come vuole. Donne, uomini: naturalmente, fluidamente. Un guardaroba che disegna e dischiude possibilità".
"Code Temporal", la nuova collezione haute couture di Maison Valentino dove la tradizione canonica dell'alta sartoria non è mai scontata, ma anzi aggiornata.
Saltano subito all'occhio sandali e stivali altissimi, vertiginosi, si potrebbero definire subito Punk, verniciati, laminati, spiccano il bianco, l'oro, in nero e l'argento. Che, esattamente come il movimento giovanile di protesta, sorto verso la fine degli anni Settanta in Inghilterra e negli Stati Uniti, non mancano di mostrarsi in tutta la loro ostentata esibizione delle forme.
La maestria e l'esperienza di un atelier oltre modo è tangibile in ogni look.
Applicazioni maxi su abiti dai tessuti impalpabili. Poi ancora tagli che formano figure geometriche regolari in spettacolari origami. I glitter rubano la scena, sia sui capospalla che sui volti dei modelli che sfilano per Code Temporal, in versione Co-ed, all'interno della Sala Grande di Galleria Colonna a Roma.
Tutto è contemporaneo. La maglieria oversize, fatta di intarsi di budellini di seta, incontra abiti, pantaloni e gonne sartoriali. Alle braccia lunghi guanti, sia per lui che per lei. Forme tipiche dell'alta moda conquistano tessuti iridescenti che ci piacerebbe indossare nei night club più cool di Londra, New York o Dubai. Stravaganza e purezza, come il cappotto in cashmere cosparso da frange di lurex che lo trasformano in una pelliccia dorata, indossato da Maria Carla Boscono.
"A parlare sono solo la linea, la grana della stoffa, il colore caldo e freddo, i neutri e i bagliori acrilici. Il preziosismo da apparente si fa silente, intimo, come è intima la semplicità intercambiabile e protettiva dei pezzi. Improvvisi, lampi di daring".
Code Temporal, Una performance che ancora una volta esalta l'individualità della persona.
I marmi delle statute, gli elementi barocchi dell'arredamento e i cristalli dei lampadari fanno da accattivante sfondo alla performance, andata in onda in live streaming sul sito della Maison, accompagnata dalle note di "Ritual Spirit" dei Massive Attack, sono un costante incontro / scontro di culture che possono convivere, lasciando emergere l'Io di chi indossa una di queste nuove fantastiche creazioni.
Come specifica Maison Valentino:
Il codice temporale di questa Couture ricodificata diventa racconto digitale nella collaborazione con Robert Del Naja, artista e frontman dei Massive Attack, che insieme a Piccioli lavora ad un documento completo, un docu-film che sarà rilasciato nei prossimi giorni e indipendente dallo show, che mostra il lungo processo di Atelier. Le informazioni sul making of della collezione, i volti delle maestranze, gli shooting fotografici seriali e in time lapse del work in progress sui busti da sartoria diventano sequenze algoritmiche elaborate e musicate dalla macchina; istruita da Mario Klingemann partner creativo. "L'umano nutre il meccanico, il manuale attiva un processo neurale e digitale, nella ricerca di un nuovo umanesimo. Attraverso il filtro sintetico dell'intelligenza artificiale, della Couture emerge l'aspetto emotivo, la celebrazione e valorizzazione della qualità umana: un codice che si rigenera all'infinito rimanendo senza tempo".