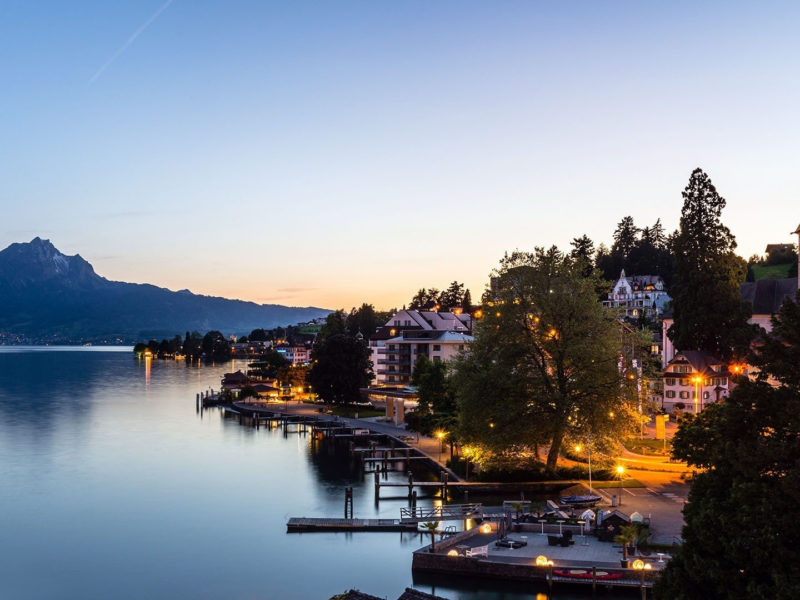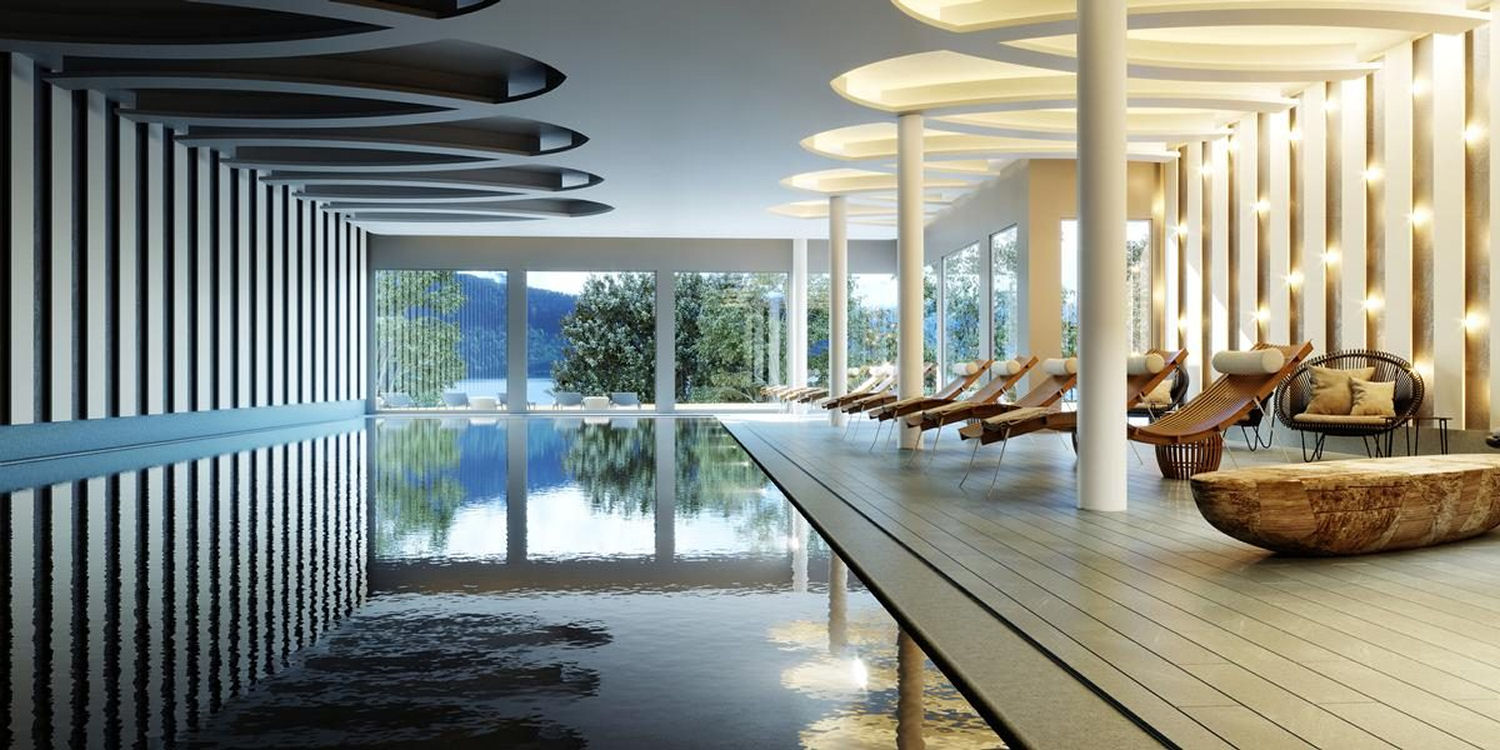 La Svizzera d'estate: better-aging SPA, eccellenze stellate in alta quota e il minimal style nelle nuove suite by Philippe Starck
Chenot Palace Weggis - la piscina interna
Source: La Svizzera d'estate: benessere open-air o in better-aging SPA, eccellenze stellate in alta quota e tutto il relax delle suite firmate da Philippe Starck
In Svizzera la vacanza è luxury, in quota e a bordo lago…

Japan-gourmandise ad Andermatt
Partiamo proprio da quasi 2300 metri, in cima al monte Gutsch con la prima stagione estiva del più alto ristorante di cucina nipponica non solo in Svizzera ma in Europa.
The Japanese by The Chedi Andermatt inaugura la sua apertura estiva, dopo il debutto pre-lock down di gennaio scorso.
Il gemello del signature restuarant stellato sito nella famosa struttura ad Andermatt del gruppo luxury GHM Hotels "porta al top" l'eccellenza de The Japanese, un'iniziativa riservata a veri intenditori in un contesto naturalmente unico.
La proposta culinaria dell'Executive Chef Dietmar Sawyere spazia con un menu a base di 6 piatti unici giapponesi, presentati un'elegante Shidashi Bentō.
In combo, sempre valido quindi per gli ospiti del The Chedi Andermatt l'invito alla degustazione delle proposte nel locale stellato interno e progettato dallo studio londinese di Christina Seilern che reinterpreta l'alpine-style al cospetto del Gottardo strizzando l'occhio anche al gusto orientale.

Benessere a St. Moritz
Nel nome del relax sono invece le proposte del Grand Hotel Kronenhof, in Pontresina.
Arrivano infatti i nuovi pavillon per la clientela che desidera meditare e fare yoga open air. Con strutture ad hoc collocate nel parco antistante l'albergo che affaccia sul fiume Flaz, sono la nuova location per godere della pace del mattino in quota.
E a proposito di yoga, l'ultima tendenza da queste parti ora è proprio quella che sceglie dei percorsi privati di goat yoga o goat meditation walk, specie nelle notti di luna piena, guidati dall'esperta terapista Nicole Buess a disposizione degli ospiti che desiderano vivere la nuova esperienza.
Non è da meno per quest'estate la struttura gemella, il Kulm Hotel, situata a 1.856 metri e con la miglior vista in assoluto sul lago di St Moritz.
Qui gli ospiti potranno sfruttare il sodalizio dei due hotel di lusso per usufruire di servizi particolari a loro disposizione.
In particolare 7 ristoranti (con la formula Gourmet Dine Around), i programmi V.I.K. (Very Important Kids) per le attività ed i ristoranti dedicati ai bambini e alle due SPA panoramiche di oltre 2.000 mq.
Non ultima poi la possibilità di condividere le attività previste dall'annesso campo da golf da 9 buche del Kulm Hotel, operativo per poter praticare a più livelli.
Philippe Starck a Zurigo
Spostandoci invece verso Nord, l'ex Eden au Lac hotel ha lasciato il posto a La Réserve Eden Du Lac Zurich da maggio.
Da poco quindi si può ammirare la capitale economica della Svizzera ed il suo lago dalle splendide suite rivisitate dal genio di Philippe Starck.
E' grazie all'archistar, infatti, che l'hotel ha riacquistato il suo posto sulla scena cittadina e non solo, assumendo secondo molti le sembianze di un yacht club contemporaneo, visti i suoi dettagli tratti dall'universo nautico che ben richiama le attività sul lago antistante.
Le sue 40 camere e suite, i ristoranti e il bar sono stati ridisegnati per offrire un'esperienza raffinata con un tocco decisamente minimal, in forte contrasto con l'anima art decò dell'hotel, prossimo infatti a superare il suo primo secolo.

Chenot a Lucerna
A Lucerna, debutta il nuovissimo luxury medical center che ha aperto in Svizzera sotto l'insegna Chenot solo un mese fa, nello Chenot Palace Weggis.
Con una magnifica vista panoramica sul lago per le sue suite, oltre ai servizi estivi come una speciale spiaggia privata per gli ospiti dell'hotel, un ristorante ed una tea lounge, la struttura propone una SPA ultramoderna che si estende su 5000 m2 di superficie.
La tappa è d'obbligo quindi quest'estate per un programma a tutto detoxing.
Per un reboot completo dell'organismo, l'hotel 5 stelle lusso propone infatti trattamenti di 7 giorni fra detox e biolight, con programmi che accompagnano ad un'alimentazione sana la rigenerazione di corpo e mente, come vuole il tradizionale metodo Chenot.
Terapisti ed équipe specializzata mirano ad accompagnare ciascun ospite in questo percorso individuale, senza nulla togliere al piacere di una parentesi di naturale relax a bordo lago.
Nescens Better-Aging a Ginevra
E se il Fairmont Le Montreux Palace ha inaugurato da poco la sua Penthouse Suite, verso Ginevra si stuzzica la migliore clientela con il pacchetto Nescens Better-Aging, proposto dalla Spa Nescens de La Réserve Genève Hotel, Spa & Villa.
Cuore di questa nuova proposta non è opporsi all'invecchiamento ma affrontare l'avanzare dell'età nel modo migliore. Da qui la scelta di dedicare dei programmi sviluppati per localizzare e correggere gli squilibri che accelerano l'invecchiamento.
Fattori come stress, perdita di forma, accumulo di tossine sono così contrastate con un piano di prevenzione della salute su misura del cliente.
E nella struttura super lusso che si affaccia sul lago di Ginevra, c'è anche la possibilità di soggiorni in villa privata sempre fronte lago.
In tal modo si possono usufruire così di tutti servizi dell'hotel ma con una maggiore privacy e in un contesto del tutto privilegiato.